Museum Collections
The Ronald Reagan Library is one of nine Presidential libraries administered by the National Archives and Records Administration. Like the other libraries, it was built with private funds and then donated to the United States, to be operated thereafter by the government.
The library's purpose is to collect, preserve, and make available to the public the historical materials that tell the story of the presidency of Ronald Reagan. The White House materials of President and Mrs. Reagan and their staffs form the core of the library's resources.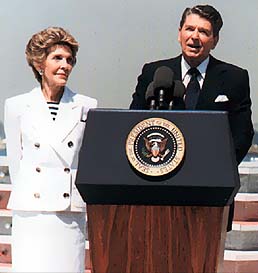 The Ronald Reagan Library contains over 100,000 gifts the President and Mrs. Reagan received throughout the eight years President Reagan was in office. This section showcases a handful of these gifts.
"The doors of this library are open now and all are welcome. The judgment of history is left to you, the people."
—Ronald Reagan, Remarks at the Ronald Reagan Presidential Library Dedication (November 4, 1991)
Artifacts from President Reagan's childhood and professional career provide physical evidence of his extraordinary life. Step through a model of the Dixon Arch in Illinois to experience Reagan's youth, while his Eureka College letter sweater recalls his student years. A recreated studio booth highlights his early radio broadcasting career, which led to an acting contract with Warner Bros. Film clips. Original costumes and movie posters trace his days in the movies, the Screen Actors Guild, and on television, as host of GE Theater and Death Valley Days. Glimpse into Ronald and Nancy Reagan's devoted marriage, a love story straight out of a Hollywood script. Learn about Reagan's growing involvement in politics. Witness his presidency, from reviving the economy, reducing the size of the federal government, and ending the threat of nuclear war. See a piece of the Berlin Wall, immerse yourself in Camp David and Rancho del Cielo. And, in 2005, walk through the Air Force One that President Reagan used throughout his eight years in office.Se the Permanent Galleries page for photos.