---

Researcher Information
Each year, the Reagan Presidential Library receives thousands of requests from researchers all over the world to study historical records that document the issues that were of national importance in the 1980s.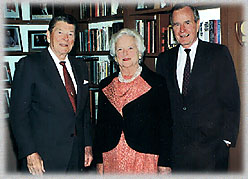 If you are interested in conducting research in the Library's 50 million pages of records from Ronald Reagan's presidency and California governorship, 1.5 million photographs, half a million feet of motion picture film, or tens of thousands of video and audio tapes, the place to start is here. A staff of archivists is on hand to explain the best way for you to access material that will support your research, whether you are writing a school paper or a book-length manuscript.
To begin your research, contact us:
By e-mail: Reagan.library@nara.gov
By phone: (800) 410-8354 or (805) 577-4000
By fax: (805) 577-4074
The Reagan Library research room is open from 9 a.m. to 5 p.m. Monday through Friday, and closed on all federal holidays. There is no fee to conduct research, but there is a charge for photocopies and audiovisual reproduction services.