Rebecca M. Caraveo
photographer's bio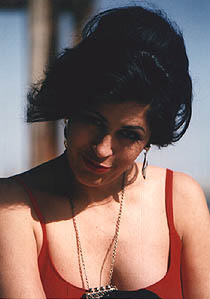 Photography has always been part of my life. My first instinct was to capture what was going on around me, to save it for posterity. Not only was it documenting my life, but it was documenting a special place in time.
I've come to a place where I want to catch an image which could be now or could have been a long time ago. I use the vintage technique of hand painting photographs that have been sepia toned. The combination gives a warm invitation to the mystery of the image.
Another lifelong passion of mine has been music. I have photographed quite a few of local musicians through the years and still do. This work has appeared as CD and cassette covers as well as in websites, magazine and newspaper articles and promotional material.
I have been a member of Spectrum Photographic Gallery for seven years and had my first one woman show in 1996. My work has appeared in numerous group shows in the Fresno area.
Many of the images currently displayed on the Tower2000 website were drawn from my exclusives taken for the Tower District Marketing Committee's TALK OF THE TOWER magazine, a monthly publication distributed by the Fresno Bee.

Pieces of my photographic work were selected by Web Portal Design of Palo Alto, which created a stunning virtual Tower District on the Web. The images are composited and rendered with shadow and light by digital artist, Thomas Hobbs, to emulate the angst and mystery of American Modernist painter, Edward Hopper.
These photographic renderings are pivotal in creating the metaphor of 'theater of the mind' in the Tower2000 site. I am pleased to participate in establishing the Web-presence and posterity of Fresno's historic Tower District.
The site now draws over 40,000 web-travelers each month from all over the valley, the U.S. and the world. Visit the Tower2000 web site at http://www.tower2000.com

If you are interested in my work with mixed-media photography, or in professional photographic contract work, please e-mail me at cattieness1@hotmail.com for more information.